Pressemelding
08.09.2022
The digital piano reimagined - CASIO presents an innovative digital piano concept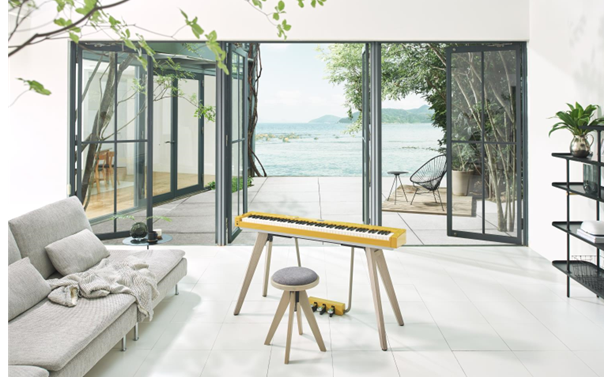 Norderstedt, September 8th 2022
Under the slogan "In Harmony with Life", CASIO presents its new digital piano concept in the form of the Hero Model Privia PX-S7000 in 360° design. Highly innovative and pragmatic, the PX-S7000 presents itself as a contemporary alternative to the traditional digital piano, which integrates perfectly into the interior design of the modern home both visually and functionally.
"Style, Reimagined" - The PX-S7000 design convinces with clear lines. The stand in particular appears light and filigree compared to the classic console look. The high-gloss, polished surface*, similar to the surface of current smart devices, the transparent acrylic music stand and, last but not least, the overall material mix, which also contains textile elements, underline this lightness and modernity and reflect a contemporary, high-quality interior. Harmonious in every respect and simply beautiful from every angle. Speaking of "harmonious": the flagship PX-S7000 is available not only in black and white but also in the deep yellow "Harmonious Mustard" and thus sets a new, sophisticated color accent.
In addition to the high-quality sound generation and the newly developed "Smart Hybrid Hammer Action" keyboard made of wood and resin, the PX-S7000 has a new type of sound system with four independently amplified broadband speakers that can be adjusted to different positions in the room. In this way, the piano can not only be placed on the wall but anywhere in the room

* Only the Harmonious Mustard model has a polished finish
With over 400 high-quality tones, the PX-S7000 is an absolute specialist when it comes to the variety of sounds. When selecting the sounds, special attention was paid to the piano sounds. A large number of different piano, grand piano and e-piano sounds can be found in the instrument. A special feature here are the so-called "Best-Hit" pianos, which are unmistakably reminiscent of the piano sounds of world-famous POP and ROCK hits from different decades and genres. The selection is completed with a variety of organ, strings and synthesizer sounds and many more sounds. As the icing on the cake, a microphone can also be connected directly to the instrument and played back via the integrated loudspeakers, and the vocals can be provided with various effects.
The numerous sound and effect setting options can not only be controlled and saved directly on the instrument, but also intuitively operated via the CASIO MUSIC SPACE app, which is available free of charge. It all works Wirelessly via Bluetooth®, of course, with the Wireless MIDI and Audio Adapter, which, in addition to app and MIDI connectivity, also allows audio streaming from smartphones or tablets via the integrated speakers of the PX-S7000.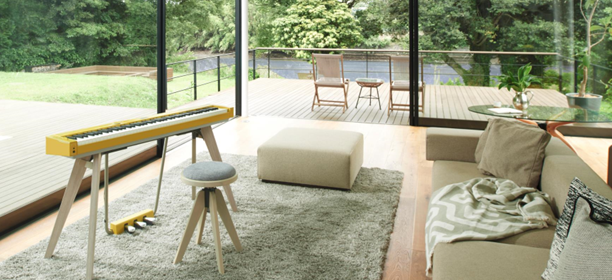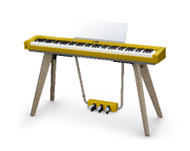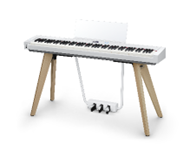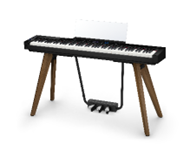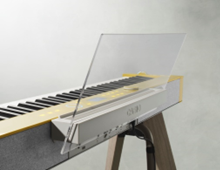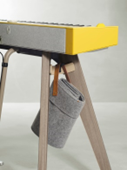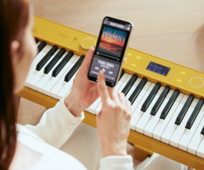 In addition to the PX-S7000, there will be two other new models with separately available stand and pedal units - the PX-S6000, in gloss black and wood grain, which features the same innovative sound system and expressive keyboard of the PX-S7000, and the PX- S5000, featuring the new keyboard of the PX-S7000 and PX-S6000 models and the same slim body of the Privia model PX-S1100 with a compact depth of 232mm,
Model
Stand and Pedal
Number of Built-in Tones
PX-S7000HM
Included in delivery
400
PX-S7000BK
PX-S7000WE
PX-S6000
Available separately
350
PX-S5000
23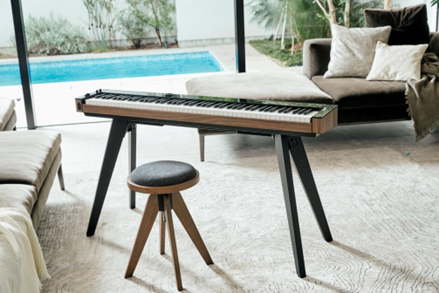 Main Specifications of PX-S7000/S6000/S5000
Model Name
PX-S7000
PX-S6000
PX-S5000
Keyboard
Number of Keys
88
Key Action
Smart Hybrid Hammer Action Keyboard
Key Material
Hybrid of wood and resin
Touch Response
5 sensitivity levels, off
88-Key Digital Scaling
Yes
Hammer Response
Yes (10 levels, off)
Yes (4 levels, off)
Key Off Response
Yes (3 levels)
Tones
Polyphony (maximum)
256
192
Number of Built-in Tones
400
350
23
Grand Piano Tones
9 (Privia Grand HG/NY/BN)
3
Best-Hit Pianos
11
-
Various Pianos
19
12
-
Classic E. Pianos 1
30
17
-
Classic E. Pianos 2
20
13
-
Other Tones, GM
GM 128, Drum 8, Others 175
GM 128, Drum 8, Others 169
Other Piano 7, E. Piano 4, Bass (lower range only) 1, Others 8
Tone Modification
- (But possible using CASIO MUSIC SPACE app)
Yes
-
Sound Source
Multi Dimensional Morphing AiR
Layer 
Yes
Split
Yes
Yes (Bass sound only for lower range, with fixed split point)

Acoustic

Simulator

String Resonance
Yes (10 levels, off)
Yes (4 levels, off)
Damper Resonance
Yes (10 levels, off)
Yes (4 levels, off)
Open String Resonance
Yes (10 levels, off)
-
Aliquot Resonance
Yes (10 levels, off)
-
Key Action Noise
Yes (10 levels, off)
Yes (4 levels, off)
Damper Noise
Yes (10 levels, off)
Yes (4 levels, off)

Digital

Effects

Sound Mode
Hall Simulator / Reverb
Hall Simulator 8, Reverb 8
Hall Simulator 4, Reverb 8
Surround
3
2
Piano Position
4 (Standard, Wall, Center, Table)
-
DSP
Yes (Preset for some tones)
Yes (Built-in for some tones + 100 presets, editable)
Yes (Preset for some tones)
Microphone Effect
Yes (25 types)
-
Headphone Mode
Yes
Accompaniment
Arpeggiator
Yes (50 types)
-

Additional

Features

Connection to App
CASIO MUSIC SPACE
Piano Remote Controller
Yes
Bluetooth feature

Included: Wireless MIDI & Audio Adaptor

(WU-BT10)

Bluetooth Version 5.0

Audio
Profile: A2DP; Codec: SBC
MIDI
Profile: GATT (MIDI over Bluetooth® Low Energy)
MIDI Recorder / Playback
2 tracks (1 system track + 1 track), 5 song
2 tracks (1 system track + 1 track), 1 song
Audio Record-er / Play-back
USB Flash Drive
Yes
Internal Flash Memory
Yes
-
Metronome
Off, 1 to 9 beats, tempo range: 20 to 255
Tempo Marking Setting
Yes
Guide Type
Metronome / Drum (20 patterns)
Metronome
Pedals

Fixed 3-pedal unit (included)

damper (continuously variable), soft (2 levels), sostenuto)

Included: SP-3

Optional 3-pedal unit: SP-34

damper (continuously variable), soft, sostenuto

 
Continuously Variable Pedal (damper pedal)
Yes
Yes (Optional 3-pedal unit (SP-34))
Scale Tuning (Temperament)
Equal temperament + 16 variations

Con-troller

(Left of keyboard)

Pitch Bend Wheel
Yes (illuminated)
Yes
-
Knob
-
2
-
Control Button
1 (illuminated)
1
-
EX Button
2 (illuminated)
-
Others

・Touch buttons: 12 (Tone Category Buttons: 3)

・Touch Ring

・Registration: 96 setups (4 areas x 24 banks)

・Auto Power Off

・Touch buttons: 6

・Auto Power Off

Display
Full-dot LCD with backlight
-
MIDI
Yes (Using USB port B)

Connec-tivity

and

Storage

Headphones
PHONES: 2 (Stereo standard phone jack (TRS phone), Stereo mini phone jack (Mini TRS phone))
PHONES: 2 (Stereo mini phone jack (Mini TRS phone)
Pedal
1 (Expression/Assignable)
1 (Damper)
Connector for 3-pedal Unit
Yes (Included fixed 3-pedal unit / SP-34 compatible)
Yes (SP-34)
LINE OUT
2 L/MONO, R (Standard phone jack (TS phone))
MIC IN
Yes (Standard phone jack (TS phone))
-
USB Type A
Yes (Wireless MIDI & Audio Adaptor compatible)
USB Type B
Yes
Acoustics
Spatial Sound System
Yes
-
Amp output

8W x 2 + 8W x 2

(when using batteries) 3W x 2 + 3W x 2

8W + 8W

Speakers

[16cm x 8cm (oval)] x 2 + [16cm x 8cm (oval)] x 2
[16cm x 8cm (oval)] x 2
Power Supply
AC Adaptor
AD-E24250LW
AD-A12150LW
Battery Drive
AA-size alkaline x 8
AA-size alkaline x 6
 
Continuous Battery Life
Approximately 4 hours

Size

 

Dimen-sions 
w/o accessories
1,340 x 242 x 102 mm
1,322 x 232 x 102 mm
 

w/

optional or fixed stand,

w/o music rest

1,340 x 449 x 741 mm (w/fixed pedal unit)
1,340 x 449 x 741 mm
1,324 x 366 x 740 mm
Weight
w/o accessories, batteries
14.8 kg
11.5 kg

w/ optional or fixed stand,

w/music rest, w/o batteries

29.1 kg (w/fixed pedal unit)
23.1 kg
23.2 kg
Compatible Optional Stand
Stand included
CS-90P
CS-68P
Body Color
Harmonious Mustard, Black, White
Black
Piano Cover
Yes (foldable felt key cover included /light gray for Harmonious Mustard/White, dark gray for Black)
-
Included Accessories

Wireless MIDI & Audio Adaptor (WU-BT10), stand, fixed 3-pedal unit, key cover, music stand,

AC adaptor (AD-E24250LW)

Wireless MIDI & Audio Adaptor (WU-BT10), pedal (SP-3), music stand,

AC adaptor (AD-E24250LW)

Wireless MIDI & Audio Adaptor (WU-BT10), pedal (SP-3), music stand,

AC adaptor (AD-A12150LW)

Compatible Soft Case
SC-900P
SC-800P, SC-900P
Last ned Pressemelding:
Denne pressemeldingen som PDF-fil
Trykk på bildene