Press release
17.02.2020
CASIO EDIFICE Renews Partnership with Formula One™ Team Scuderia Alpha Tauri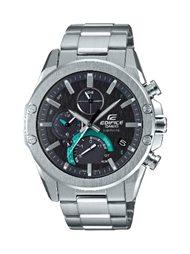 Norderstedt, February 17, 2020 — CASIO announced today that it has renewed its official partnership with the Formula One™ team Scuderia Alpha Tauri (previously known as Scuderia Toro Rosso) with a further two-year agreement. Over the next two years, CASIO will rev up its support of the team and, under the concept of "Speed and Intelligence," actively promote the EDIFICE brand worldwide.
Based in Faenza in northern Italy, Scuderia Alpha Tauri is a racing team whose roster is filled with up-and-coming young drivers. The team marks a new start in the 2020 season, having changed its name from Scuderia Toro Rosso to Scuderia Alpha Tauri.
The EDIFICE brand of metallic analogue watches features a dynamic design and functions based on advanced electronics technology that evoke the sense of speed found in motorsports. With the EQB-1000, the flagship model launched last year, CASIO achieved a slimmed-down case just 8.9 mm deep with cutting-edge smartphone link functions that automatically update the time. This high-performance chronograph is increasingly popular, especially among motorsports fans.
Scuderia Alpha Tauri brings its youthful energy, racing cars powered by outstanding technological innovation, and the passionate pursuit of speed to the Formula OneTM circuit. Believing that these qualities perfectly match the EDIFICE brand concept, CASIO has been an official team partner since 2016. With the renewal of the official partner agreement, CASIO and EDIFICE logos will appear on drivers' racing suits, as well as on the nose sections of the team's race cars, for the 2020–2021 seasons. CASIO will continue to passionately support the Scuderia Alpha Tauri team as it races for number one.
Download Press release:
This press release as PDF-file
Press pictures